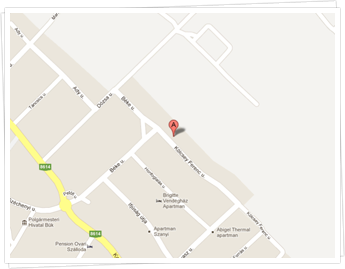 To see the map click on the link.
(To print the map, use the combination
CTRL + P in the pop-up window.)
Contact
Anna Apartment – Guesthouse
Contact person: Anna Payerli
Address: 9737 Bük, Kölcsey u. 5.
Phone number: +36 (94) 558-437
Mobile phone: +36 (20) 313-9492
E-mail:
Form to contact us
Send your questions, wishes or remarks by means of the present form.
Give your proper data to contact us successfully.
Fields marked must be filled in!
Partner